Cheetah Country
The first Cheetahs arrived at Hamerton from Wassenaar in 1998 followed by others from Belgium, the Czech Republic and South Africa.
Since then many litters have been born and raised at the Park. Several females born here have proven to be excellent mothers, rearing young into a second generation at Hamerton.
The Cheetah is the most difficult of all the wild cats to breed in captivity. Its nomadic and stressful lifestyle is difficult to replicate in a conventional Zoo enclosure, and considerable effort has been made at Hamerton to develop an area we call 'Cheetah Country' to breed this endangered and beautiful cat.
Currently 'Cheetah Country' comprises seven large grassy paddocks each with their own snug house and dens plus platforms so that the Cheetahs have long views over the surrounding countryside. The largest of these paddocks has viewing for the public along one edge, but most of the others are set away from public view and disturbance, and some are off show altogether.
The management of the animals and the arrangement of enclosures is based on that developed by the most successful breeding programme for Cheetah ever undertaken, formerly located at Wassenaar in The Netherlands. We are very grateful for the hospitality and help given to Hamerton staff on many visits, by the owners Mr and Mrs Lowman. The commitment of experienced keepers is crucial to the success of our breeding programme.
'Cheetah Country' at Hamerton Zoo Park is the most important facility for this endangered cat in the UK and will be developed further, as and when necessary.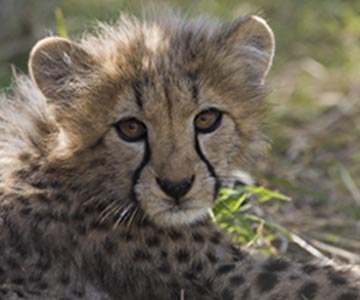 Species Support
Adopt your favourite animal for a year with our new adoption scheme and contribute towards their care and upkeep.
Find out More >